Audio, Lighting, Video Products for sale at great prices!
We Carry Many of the Industries Top Brands
Power Factory Productions Unlimited sells and installs many name brand products from leading manufacturers. We carry Audio, Lighting, Video products for sale in the industry's most popular equipment. Want great gear at great prices? Contact our team of professionals today for mixers, speakers, lighting, DJ equipment and more for sale in Houston. Below are links to some online catalogs. If you see something you like, take down the manufacturer's name and model numbers and call in or email us your order. Not sure what you need? We will be glad to personally answer any questions that you may have about our Houston mixers, speakers, lighting, and DJ equipment for sale.
Here are a few of the Productions we Rep
DiGiCo Consoles and Snakes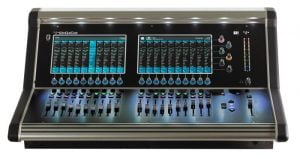 Now that Prolight+Sound is over for another year, British console manufacturer DiGiCo would like to set the record straight and thank all those that visited their booth at the exhibition.
"With the S21, we wanted to re-write the rulebook. To test the conclusions we previewed at Prolight+Sound without publishing or unlocking the full software potential, or even the intended release specifications," says DiGiCo's managing director, James Gordon.
This different approach makes perfect sense when you take on-board that the core of S21 is DiGiCo's Stealth Digital Processing. The FPGA based technology is the key that unlocks the flexibility that the R&D designers need to specify and deliver the ultimate console. This has been demonstrated to existing clients, as every console in the SD range has benefited from complimentary advancements in core processing and software since their launch.
YAMAHA's Central Logic
Digital Mixing Consoles
Yamaha's M7CL-48
An industry standard. Acceptable on most touring riders. This is a powerful mixer for sale in Houston at an affordable price.
Digital Live Sound Mixing with the Comfort and Efficiency of Analog
The M7CL series is a digital live-sound console that carries on the digital evolution from the acclaimed PM1DV2 and PM5D consoles. It includes an impressive array of advanced concepts such as the "Centralogic™" control interface that makes it as easy and intuitive to use as an analog console, and in-depth access management facilities that will be particularly appreciated in installations.
This console is familiar and comfortable to use, offering a level of convenience that overturns the preconception that "digital is difficult". A surprising range of functions that you would normally have to supply in the form of peripheral equipment is built in, and all of this is provided in a space that is dramatically less than an analog console of similar scope.
The M7CL is the ideal digital mixing console for medium size live sound applications that have previously been handled by analog gear.
Now introducing Yamaha's new flagship: YAMAHA RIVAGE PM10
This Console was a main attraction at the 2015 InfoComm show! Everything you could ever want in a digital console and more!!!
In the more than 40 years that have passed since Yamaha's first professional live sound console was released, the PM series has been responsible for a number of important milestones in the history of sound reinforcement. Many of those innovations have become standard tools that professionals depend on to this day. And now, launching a new generation of PM consoles, the RIVAGE PM10 is here. In terms of sound quality, operation, functionality, reliability, expandability, and more, the RIVAGE PM10 is a thoroughly refined flagship that defines the direction for future generations. It is a worthy heir to the PM name that brings true innovation to the evolving live sound scene.
For the engineer who is incapable of mixing on a console that's under $200,000.00

Line Array Speaker Cabinets
A-Line Acoustics AL10 Line Array Speakers
A-Line Acoustics AL Series
Concert Line Array Speaker Systems
The Atlas A-Line AL Series large format line array speaker systems we sell in Houston are high intelligibility, high efficiency speaker systems that are ideally suited for use in applications where large audiences are present including live music venues, stadiums, and clubs/theaters.
The high directivity over a broad frequency range allows the sound to be focused on the audience, keeping the sound off the ceiling, the wall behind the audience and the areas above, behind and below the array. Due to its high directivity, the array excites the reverberant field less and the excess noise decreases in the space.
RCA TTL55-A Line Array Cabinets & TTL36-AS Line Array Subwoofer Cabinets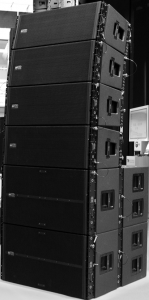 The TTL55-A is a high power, three way, active line array module engineered to deliver an incredible output for use in indoor or outdoor large spaces. The system is designed to be easily scalable from few modules for medium and small theatres to full size arrays for very large outdoor stadia and public spaces.
The three new designs for the six neodymium transducers that power the system represent the result of many years dedicated in pioneering new solutions using the best materials available on the market. The integration of the 3500 W four channel digital amplification and the advanced digital processing set a new standard for distortion, noise and thermal efficiency.
The TTL36-AS is the ideal flyable bass complement for the TTL55-A array system. The clam-shell design guarantees the maximum output per size while
the 2 x 4.5" voice coil vented 18" woofer design offers the minimum of power compression. The TTL36-AS is perfect to create flown systems for theatrical and
indoor requirements. For very large outdoor systems is the perfect complement to reinforce the TTL55-A bass performance in combination to the ultra powerful TTS56-A subwoofers.
LIGHTING
Avolites new Arena lighting console
Lighting and video control specialist Avolites is going all out with a brand new stand designed to echo the coherence of the current Titan and Ai product ranges.
This will feature two specific areas, focusing on Network functionality and Lighting and Video integration.  Avolites' stand D10 will promote a compatible family of products which all work intuitively together.
In addition, new software in Titan version 9.1, featuring enhanced pixel mapping functionality, fully custom Key Frame Shape engine and fully featured theatre functionality.
More liv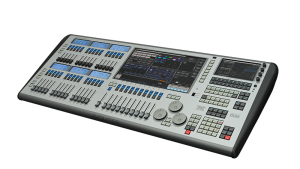 e control than ever before…
The Avolites Arena is the ideal desk for festivals, theatres and anywhere that a larger control surface is required. It combines the popular interface of the Tiger Touch II with more live control than ever before.
Alongside the vibrant main display, a second touch screen provides an additional workspace window, also labelling the adjacent macro buttons and rotary pots. These fully assignable playback encoder pots, allow intuitive control of channels and effects. The six LCD screens display electronic legends for 30 faders, for speedy access to all your playbacks, fixtures and palettes. A brand new optical output means the Arena is equipped for fibre connections, with no signal loss over long distances, from front of house to the stage – essential in large and outdoor venues.
Offering seamless Multi User compatibility, the Arena can be used as master, back-up or extra programming surface, considerably cutting your programming time by allowing multiple Titan programmers to work simultaneously, before the main console takes charge.
Avolites Sapphire Touch & Sapphire Touch fader wing
 
Performance engineering for instant live access
The Sapphire Touch is high performance, with more submasters, more flash and executor buttons, and the power to control the larger, more challenging shows.
Program with two wide screen touch monitors offering a huge workspace area, expandable further still with Sapphire Touch and Sapphire Media Wings.
Tricolour optical trackball indicates fixture colour or functionality with unique 'Saturn Ring' control, giving X,Y,Z axis control simultaneously.
Chauvet Professional Lighting Fixtures
Rogue R1 Moving Head LED Spot Fixture
Rogue R1 Spot brings innovation and creativity with a rotating 3-facet prism for stunning aerial effects, a motorized iris and focus for beam shaping, as well as two gobo wheels, one of which rotates and has 7 interchangeable gobos for custom looks. Our lighting equipment for sale in Houston includes the Rogue R1 Spot, which shines brightly with a 16.5° beam angle for crisp gobo projections in a range of eight beautiful colors.
Chauvet Q-Wash 419Z LED Wash Fixture
Q-Wash 419Z-LED is a moving yoke wash using 19 15-watt quad-colored RGBW LEDs. It produces a full range of bold saturated colors and variable whites. Built-in color macros and three individually controlled LED zones make for great visual effects. Q-Wash 419Z-LED has 16 bit dimming curves and a versatile 12.5° to 45° zoom, making it excellent for the demands of the production, touring, theatrical, installation and corporate rental markets.
When it comes to Audio, Lighting, Video Products for sale in your area, who do you call? You're probably looking to someone you trust. It's important to have someone you can call where you know you can find the right kind of equipment. It's also important to get the right price. Those relationships are valuable in this business.
Some people specialize in sound equipment, others in lighting fixtures, and yet others in video cameras or screens or even video walls, but what if you had someone who specialized in them all? That would be a great resource, especially if they we friendly, personable, and could get you a great deal. That's where we come in. Many of our customers have been doing business with us for decades. Those are the relationships we're looking to build. Let us show you what we can do to help you build your business. Call today!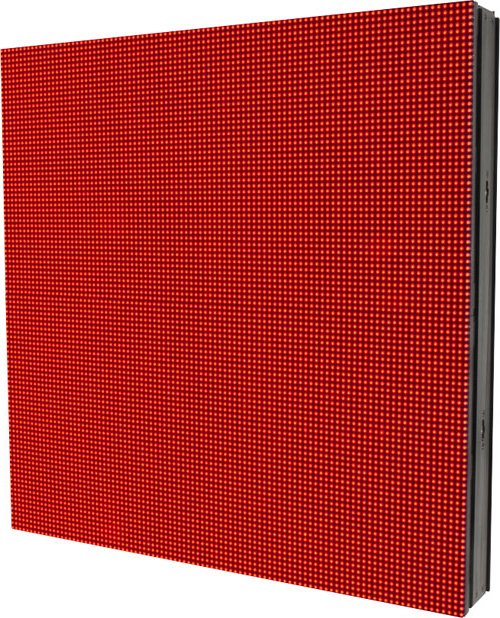 Professional LED HD Video Panels
PVP S5 With a pixel pitch of 5.2 millimeters, PVP S5 video panel boasts a higher resolution than PVP S7, enabling even shorter viewing distances. It, too, is fitted with black face SMD LEDs and performs admirably when presenting live videos and highly defined graphics for presentation at close range or from afar.
Chauvet HD Video Panels for Rent or Sale call today!
Professional Atmosphere, Fog, & Haze Machines
Professional Hazer Machines
Amhaze II is a road-worthy, pro quality water-based haze machine suited for large-scale applications. It is built specifically to function with the industry's wide variety of water-based haze fluids, and features a durable, low-profile road case to survive the rigors of touring and production. Haze output and speed can be easily adjusted via DMX or the LCD screen, and the unit comes equipped with an M13 threaded insert for hanging in any location
Transition from your LED Panels to your Moving Head Fixtures with NEXT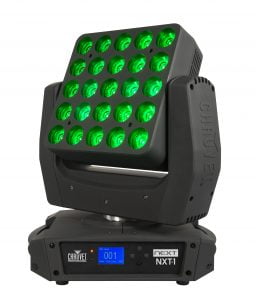 Next NXT-1 is a moving head LED panel with 25 pixel-mappable quad-color RGBW LEDs that brilliantly display pixel mapped images and punch through haze. The fast movement of the panel and rapid response of the narrow-beam LEDs let designers create engaging eye candy that enhances any live production. This fixture comes with built-in dynamic and static patterns and alpha-numeric characters for easy programming. Next NXT-1 runs on Art-Net, Kling-Net, and DMX protocols; and can be controlled with lighting consoles or media servers, providing the ultimate in flexible control integration options.
DJ Lighting Equipment for Sale in Houston

Chauvet Scorpion Dual
Scorpion™ Dual provides you with dual FAT BEAM™ aerial effect laser, perfect for events with fog or haze. The unique dual mirror output makes a great centerpiece or side accent in pairs and includes 32 built-in patterns, including the popular "Laser Sky" effect. Generate customized and ever-changing laser shows using programmable pan, tilt, and zoom effects with separate X, Y, and Z rolling effects and scan speed adjustment. Easily operate in automatic, Master/Slave, manual or sound-activated mode or wireless control using the included IR remote.
Great Looking Lasers at Competitive Prices!
LED Wash Fixtures for Special Events
Freedom™ Par Hex-4
The Freedom™ Par Hex-4 is the most colorful model in the next generation of the Freedom™ Par family. It has four 10-watt RGBAW+UV LEDs for that extra punch and the special effects that white and UV add to color mixing. It has a special limiter option for extending battery life so that when you use more than 4 colors you know you'll get a good long show! The Freedom™ Par Hex-4 comes in black or white housing so it fits into any décor and travels safely while charging using the Freedom™ Charge 9 road case.
Accent Lighting for Special Events
Rechargeable Cordless Stand Alone Operation
Professional Case Pack Gig Ready
Rechargeable LED Wash Accent Lights
Freedom™ Charge 9
Freedom™ Charge 9 is the perfect solution for safely transporting and charging your Freedom™ Par fixtures. This durable, rolling road case easily handles all the punishment a mobile entertainer can throw at it. When the gig is over, simply connect the fixtures to the internal charging module and use the external plug to connect directly into standard wall voltage. The next day, your fixtures are fully charged and ready to go again. Each case holds up to 9 Freedom™ Par Tri-6, Freedom™ Par Quad-4 or Freedom™ Par Hex-4 fixtures with enough space for all power cables
EZWedge™ Tri
EZWedge™ Tri is a battery-operated, tri-color LED wash light that fits perfectly inside TRUSST® Goal Post and Arch Kit truss systems. The rechargeable, lithium battery lasts up to 20 hours from a single charge, and you can easily check the battery status with the built-in battery life indicator. It attaches to 35-mm truss without the need for a bracket, using M10 or M12 threaded rig points. Its flicker-free operation is suitable for on-camera use and it provides smooth dimming with built-in dimming curves. Easily control static colors and automated programs with the included IRC-6 remote, or create any color without DMX by using the built-in digital display and build coordinated light shows by linking other tri-color LED fixtures in Master/Slave mode.
Truss Warmers for Corporate Shows, Clubs, Concerts, & Special Events!
SPEAKERS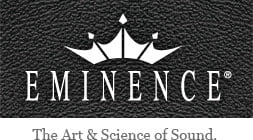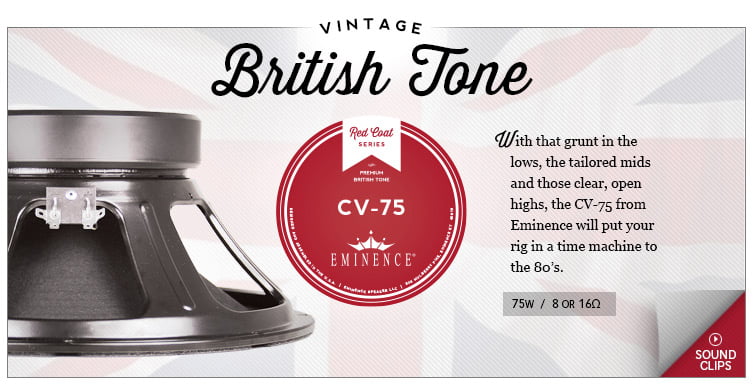 EMINENCE
Vintage Speakers
ELECTRICAL

Entertainment Industry Lighting Products & Parts
Have you ever gone to the store and found that the sales person has less knowledge about the products they are selling than you do? Frustrating isn't it?!! That is never the case at Power Factory Productions Unlimited. Our team of highly trained professionals has extensive knowledge in most audio, lighting, video products for sale on the market today. That's because they use the very equipment they sell in the field on a regular basis. They know the dos and don'ts, the ins and outs, when and where you should use something and when not to. Having the right tools is key to your success. Why not let our team assist you in determining which audio, lighting, video products for sale are the best fit for your needs. Let us help you find the right equipment at the right price. Call today!