Speaker Rentals in Houston
When you are planning an event, you'll likely look in Houston for speaker rentals at some point. This includes weddings. Since your wedding is only going to happen once, you need to ensure you have all the right audio equipment in place.
Chances are you put quite a bit of time and effort into the wedding. You plan the venue, make your guest list, and ensure the food is on point. However, what's the point of all this if your guests can't hear what you are saying or what's going on? This is where a quality service in Houston offering speaker rentals comes in.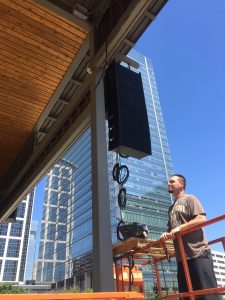 The odds are good that you have been to a wedding where you could not hear what was going on. There are three main reasons this occurs:
The sound equipment wasn't being run by a professional.
It wasn't right for the venue.
The sound equipment was non-existent.
Remember, poor sound at your wedding doesn't just affect your guests. This is also going to show up on your wedding video. This means you have to replay the same issues time and time again.
Are Speaker Rentals Necessary?
If you are having a smaller ceremony with 50 or fewer guests, it isn't always necessary to use professional-grade speakers in Houston for sound production. However, even with smaller events, some amplification is needed. This is particularly the case if the wedding is hosted outdoors or the people talking have soft voices. Other issues that may impact the sound is background noise. Traffic or even waves at the beach can interfere with how well you can be heard.
In this case, the bottom line is that if you believe you need amplification, you likely do.
Some brides think that a microphone is going to get in the way of their wedding plans. However, a quality audio company is going to ensure this doesn't happen. They are going to work to keep all the equipment as low-profile as possible. This includes the speakers. The majority of people agree that a microphone isn't too distracting. It is also much less distracting than having guests who can't hear well.
Who Needs a Microphone at a Wedding?
In most cases, microphones are shared at a wedding. However, it is still a good idea to think about who may need one. Some of the most common ways a microphone is used during a wedding are by:
The officiant or minister
The bride and groom
The people giving speeches during the wedding
Musicians or singers
Sound System Options for a Wedding Ceremony
For most wedding ceremonies, a smaller sound system with speakers on stands is sufficient. While it isn't required, wireless microphones need to be used to avoid cables getting in the way. This also allows the amplifier or mixer to be placed farther away from the actual ceremony. During a wedding, there are three basic types of microphones. The three options include:
Condenser Microphones: Used for amplifying acoustic instruments and able to cover bigger areas.
Clip-on Microphones: These are inconspicuous, are small, and are clipped to a person's clothing.
Handheld Microphones: This is a traditional microphone you have likely seen before.
Power Factory Productions has set up many weddings in the past. As a result, they know the best way to achieve a superior level of sound.
A good option is to use a handheld microphone that is passed from one person to another. A better option is to use several microphones. This eliminates the need to pass it around. The absolute best choice is to use wireless lapel microphones for the bride, groom, and officiant. Have a handheld unit for everyone else.
Additional Sound Tips for Your Wedding Ceremony    
Several other tips can help ensure your wedding ceremony has the audio technology needed.
Microphone Wind Screens: A windscreen can make weddings outdoors have better sound.
Podium: Anyone speaking can be seen and heard better when a podium is used.
Lighting: Install various types of light for night ceremonies.
Stay aware of the microphone: Once you are wired, anyone can hear what you are saying. Keep this in mind.
A quality audio rental service can make sure that you have all the accessories needed for your wedding. They understand that the bride and groom have enough on their plates. As a result, they take care of the small details, such as having extra batteries and backup microphones.
Setup for Your Big Day
In addition to having the right audio equipment for your wedding, it is also necessary to ensure everything is set up properly. A speaker in the wrong place can result in half the guests being unable to hear. Most people don't have first-hand knowledge of how to set up the speakers. They may also not understand how to set the levels correctly on the microphone.
The professionals from Power Factory Productions understand how to handle any wedding audio arrangement including Houston DJ equipment. They can help you get the right equipment for the event. The professional technicians can also ensure it is all set up and ready to go. Any professional service has handled many weddings, both outside and inside. As a result, you don't have to worry about sound issues.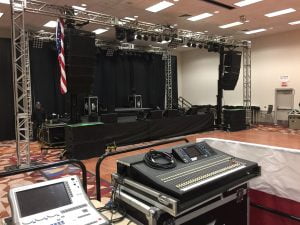 Hiring the Audio Rental Service that's Right for Your Needs
Your wedding is one of the most important days of your life. As a result, you want to find a professional audio equipment rental service. Many factors can impact the sound at your event. If you don't take each one into consideration, you may find some guests can't hear what is going on. Don't let this happen. Request a free estimate today.
At Power Factory Productions, you can feel confident you have access to the quality sound you want and need. The team of professional technicians can help you each step along the way. This includes planning, as well as setup of the equipment being used. With all this help and quality services, you don't have to worry about any sound issues. When it comes to Houston speaker rentals, Power Factory Productions delivers.
Houston TX Fun Facts
Houston is home to four different professional sports teams
The city hosts more than 400 events year-round
The JP Morgan Chase Tower is the tallest building in Texas
For more, click here