_______________________
Houston AV Rental
Do you want to make your event amazing? If so, you need to invest in quality sound and video production. Buying the equipment to do this is often quite costly. There is a better option. Consider using the services of a Houston AV rental company.
The fact is, there are several benefits offered when you choose to rent the AV equipment you need. When you know what the benefits are, you can avoid spending too much money, while still getting the results you require.
Houston AV Rental Services Help You Avoid Maintenance Costs
If you purchase audiovisual equipment, you are responsible for keeping it running properly. However, when you use the services of Houston AV rental companies, this is not the case. When you rent equipment, it includes full maintenance. This means you don't have to worry about it breaking down or having to take it to the repair shop. You can also avoid the costs associated with purchasing spare parts, keeping it clean, and other regular maintenance tasks.
Avoid Time Consuming Breakdowns
It doesn't matter how well something is maintained; all equipment is going to break down at some point or another. If you rent your AV equipment and it breaks down, you don't have to do anything but make a call. The AV rental service in Houston from Power Factory Productions, for instance, includes full repairs or replacements for the items. As a result, you don't have to worry about costly downtime. You can also avoid the repair bill to fix the issue.
No Need to Store the Equipment
Regardless of if you are planning a wedding, corporate event, concert, or party, you don't need AV equipment all the time. However, if you purchase the sound and video equipment, you are going to have to store it at some point. This either results in you taking up space in your home or business or having to pay to keep it in a storage unit.
When you utilize AV rental services in Houston, you don't have to worry about this. Technicians from the company deliver the requested items and then picks them up when the event is over. You never have to worry about keeping or storing any item you have used.
Reduce Your Expenses
Rented equipment is more affordable than purchasing the same items outright. Understanding the precise cost of AV equipment is difficult. This is due to the many factors that make it up. For example, you have to consider acquisition costs, repair bills, the cost to maintain the items, transportation for it from location to location, and more. However, when you rent the items, you pay one price. This cost covers the entire piece of equipment for the length of time you specify. There are no undetermined variables you have to consider.
Disposal Costs
When you purchase AV equipment, it is eventually going to be obsolete. At this point, you either have to sell it to buy something new or dispose of it properly. In either case, this can cost you. You are never going to recover the full cost of the equipment. After advertising the item, preparing it to sell, and selling it, you are likely going to take a significant loss. You also have to purchase the newest items. This is a cycle that is going to continue. However, when you rent, this isn't an issue. You can access the latest AV equipment on the market, for a fraction of the cost of ownership. When you rent AV equipment, you don't have to worry about losing any money.
Issues Related to Obsolescence
Better and faster AV equipment is released all the time. After all, manufacturers are always competing to release the "next big thing." When you own the items, you have a handicap. You are forced to keep equipment that is less efficient and slower compared to newer options. Power Factor Productions is upgrading its products regularly. This ensures when you rent your AV equipment you have the latest models and types available.
Find the Right AV Tools for the Event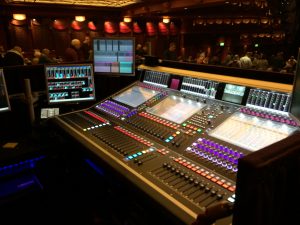 There is another kind of inefficiency caused by AV equipment ownership. You may purchase a particular kind of AV equipment for a wedding, which doesn't work for other events. If you host a corporate event, concert, or something different, you have to purchase completely different items. If you decide to "make it work," you wind up sacrificing quality, time, and paying more in the long run. All this is avoidable. Renting ensures you get exactly what you need, regardless of what type of event is planned. There's no need to sacrifice the features and results desired.
Finding the Right Rental Service
When you are ready to rent AV equipment, you may believe all rental services are created equal. This is not the case. The company you choose matters. Failure to put in the time and effort to locate a reputable company means you may pay for the decision. A sub-par rental company can result in low production values, inferior sound, and poor images. This can cause the entire event to fail. Don't let this happen.
When you work with Power Factory Productions, you can feel confident you are going to get the results you want. Projection screens, computers, speakers, sound systems and microphones have to fit the venue and the occasion. The professionals can help ensure you get exactly what you need all within your established budget.
When you find the right provider, you can also have peace of mind that you are receiving quality equipment. They typically provide you with support while you are using the equipment, too. This means if it suddenly stops working, they can come and troubleshoot the problem. You are never on your own. If you purchased the items outright, you would have to face the repairs on your own. In some cases, the only way to fix it is a replacement. This costs even more money and may delay your event. Avoid these expenses by finding and using quality Houston AV rental services.
Houston TX Fun Facts
The city has four different professional sports teams
The JP Morgan Chase Tower is the tallest building in Texas
Houston is the nation's fourth-largest city
For more facts, check here